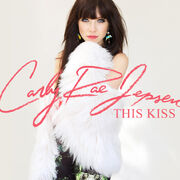 The
music video
for "
This Kiss
" was released on Sunday, October 28, 2012.
Carly Rae Jepsen
released it on YouTube
here
, using the account
CarlyRaeJepsenVEVO
.
About
Filming for the music video began on September 20, 2012, with shots of Jepsen on set of the music video surfacing online the same day. She was pictured wearing a pair of leather pants along with a red-black corset and a silver chain hanging from her waist. The singer said she is aiming to show a more mature side with the music video. On October 8, 2012, a 24-second teaser was uploaded to YouTube featuring Jepsen performing the track at a party, falling for a guy in a grey beanie and then jumping into a swimming pool with him for a kiss. Two weeks later, the singer tweeted, "the music video for THIS KISS is coming soooo soon! Until then here is a little preview. Hope you enjoy it! Mwah x," followed by the link of the teaser. A lyric video, which "channels the familiar opening credits of the classic show Saved By The Bell" as noted by Carl Williot of Idolator, was released on October 18, 2012. The music video premiered first on October 26, 2012 at the Fun Size film premiere, and then released online on October 28, 2012.
Ad blocker interference detected!
Wikia is a free-to-use site that makes money from advertising. We have a modified experience for viewers using ad blockers

Wikia is not accessible if you've made further modifications. Remove the custom ad blocker rule(s) and the page will load as expected.