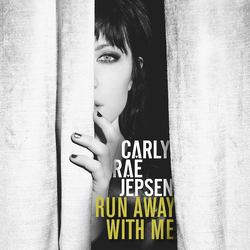 "Run Away with Me" is the first track on Carly Rae Jepsen's third album, E•MO•TION. On August 19, 2015, Carly performed the song on The Tonight Show Starring Jimmy Fallon. It is the second single from the album.
According to Carly the song is about the magic of long-distance lovers being together, even if only briefly.
Critical reception
Critics complimented the use of the saxophone, Jepsen's songwriting & the sense of nostalgia the song brings. Furthermore, many have stated it is the best pop song released since Katy Perry's Teenage Dream. Lucas Villa of AXS called "Run Away with Me" Jepsen's "most intriguing track yet" and billed it as "thrilling pop." He also commended the singer for "captur[ing] the heat of the moment" in her performance and added, "Should [the song] connect, there's no doubt that she will have a runaway hit on her hands." Jezebel's Jia Torentino named the single a "100% Perfect Song [...] and on this day in the year of our Pop Lord 2015, it is the best song in the world". Spin magazine referred to "Run Away with Me" as "the best pop song of 2015 yet", "an undeniable hit waiting in the wings for its moment", and a "big, bold, beautiful masterpiece".
Paper magazine hailed the song as "just as much the pop perfection that is 'I Really Like You'" and "the perfect anthemic summer jam", while USA Today welcomed "Run Away with Me" as "a marked improvement over ['I Really Like You']". Time magazine wrote of the track, "'Run Away With Me' marries euphoric Swedish dance-pop with a pressing nostalgia for your teenage years, a time when the littlest crushes felt like time bombs and a time Jepsen is really, really, really skilled at evoking. In that sense, it's 'Teenage Dream 2.0', right down to a bridge so catchy she has to repeat it twice."
Music video
The music video was released on 17 July 2015 on her YouTube and Vevo channels. The music video was shot and directed by David Kalani Larkins, with a cameo appearance by Fan Bingbing. The video was filmed in Dublin, London, Paris, New York, Toronto and Tokyo.
Charts
Chart (2015)
Peak
position
Australia (ARIA)
100
Canada (Canadian Hot 100)
83
Czech Republic (Singles Digital Top 100)
17
Finland (Suomen virallinen radiolista)
49
Ireland (IRMA)
82
Scotland (Official Charts Company)
24
Slovakia (Radio Top 100)
64
Slovakia (Singles Digital Top 100)
15
UK Singles (Official Charts Company)
58
US Pop Digital Songs (Billboard)
49