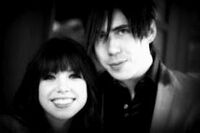 Josh Ramsay is a Canadian singer-songwriter, producer, musician, and the leader of the band Marianas Trench. He was born June 11, 1985, in Vancouver, BC. He produced Carly Rae Jepsen's international premiere, Kiss. Josh is featured on Carly's hit, "Sour Candy".
Ad blocker interference detected!
Wikia is a free-to-use site that makes money from advertising. We have a modified experience for viewers using ad blockers

Wikia is not accessible if you've made further modifications. Remove the custom ad blocker rule(s) and the page will load as expected.