"Call Me Maybe" is a music video featuring Carly Rae Jepsen. It was uploaded on Jepsen's YouTube channel on March 1, 2012.
Music Video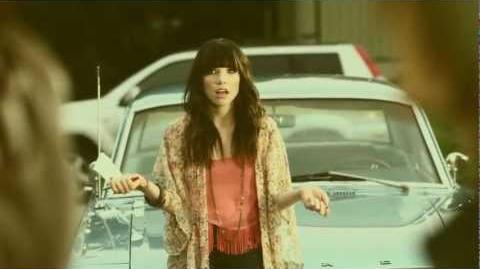 History
A music video for "Call Me Maybe" was written and directed by Ben Knechtel. According to Knechtel, the main idea behind the concept was to have a "twist at the end", trying to get away from the idea of the classic "boy meets girl" story. The music video has over 176 million views on VEVO and YouTube as of July 30, 2012. It begins with Jepsen spying on her attractive tattooed neighbor, portrayed by Holden Nowell, as he is working on his lawn. As he takes his shirt off and notices she is staring at him, Jepsen quickly hides below her window. She is reading the books Love at First Sight (Men In Uniform) by B.J. Daniels and Skylar's Outlaw by Linda Warren. The scene then cuts to her garage, where she is rehearsing the track with her band. Following the rehearsals, her bandmates push her to go and wash her car, where she tries to gain her neighbor's attention with various poses only to fall from the hood of the car. The neighbor then helps Jepsen to get up, and watches the band rehearse the track again. After turning and writing down her telephone number, Jepsen sees her neighbor pass one of her male bandmates his own number, indicating he is attracted to the man instead. The video received three nominations on the 2012 MuchMusic Video Awards in the categories of UR Fave Video, Pop Video of the Year, and Video of the Year.
Ad blocker interference detected!
Wikia is a free-to-use site that makes money from advertising. We have a modified experience for viewers using ad blockers

Wikia is not accessible if you've made further modifications. Remove the custom ad blocker rule(s) and the page will load as expected.