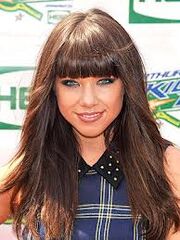 Carly Rae Jepsen hit the red carpet at the 2012 Billboard Women In Music Luncheon held at Capitale on Friday (November 30) in New York City.
The 28-year-old entertainer was honored with the Woman of the Year distinction! Carly Rae, 27, was highlighted as this year's Rising Star.
Carly Rae spoke about her hit "Call Me Maybe". "It was sort of the key to unlocking the rest of the world for me and was something that none of us were expecting," she said.
Are you happy for Carly?